Place and date: Titanic Chausee Berlin, 15.05.2017 - 16.05.2017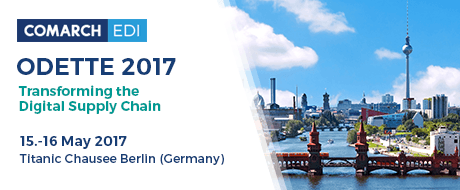 ODETTE 2017 - Transforming the Digital Supply Chain ist die internationale Konferenz und Ausstellung für Supply Chain Management im Automotive Bereich, für Digitalisierung, IT und Telekommunikation. In diesem Jahr findet die Konferent in Berlin statt.
Treffen Sie unsere Comarch Experten in Berlin und tauschen Sie sich über aktuelle Entwicklungen und Lösungen im Bereich Supply Chain Management und Logistik aus.
Weitere Informationen zur Agenda und der Anmeldung finden Sie unter:
ODETTE 2017
Gern können Sie eine persönlichen Termin mit unseren Experten vor Ort vereinbaren.
Kontaktieren Sie uns einfach per E-Mail.